Getting food ready for a big church potluck can be a bit challenging, but with the help of your slow cooker, it can be easier. I am sharing with you some of my Favorite Easy Church Potluck Crockpot Recipes that everyone asks for the recipe afterward. The best part is a crock pot saves you time on Sunday morning because you can prep the ingredients ahead of time, carry it to church and allow the slow cooker to simmer until it's time to eat.
I will tell you the best slow cooker that will not make a mess in your car when transporting it to and from church. I have also compiled some tips and tricks for slow cooker potluck recipes that will make your next potluck recipe a sure hit!
Jump to:
Why Have A Church Potluck
Church potlucks are a great way for members of a church community to come together and bond over a shared meal.
It provides a great opportunity for members to get to know one another, build relationships, and even share stories of their faith.
Praising God and sharing what He has been doing in their lives as a community is always a great way to strengthen the bond between members and create a positive, loving atmosphere.
A church potluck can also be a time of fellowship and fun. Talking and playing games together after dinner builds the bonds of the church family.
How To Organize A Church Potluck
Set a theme: Consider setting a theme for the potluck, such as "comfort food" or "international cuisine." A theme can help ensure that the dishes complement each other and provide a cohesive meal.
Create a sign-up sheet: Create a sign-up sheet for people to list the dish they will bring. A list can help ensure a good variety of dishes will be brought and avoid duplicates.
Coordinate serving supplies: Make sure to coordinate with volunteers to bring serving supplies such as plates, utensils, and napkins. You may also need volunteers to help set up and clean up the event.
Consider dietary restrictions: Be sure to ask people to indicate any dietary restrictions or allergies when they sign up so that everyone can enjoy the meal. Consider assigning a separate table for gluten-free, vegetarian, or vegan dishes.
Promote the potluck: Promote the potluck through the church bulletin, website, or social media. Encourage everyone to invite friends and family to join in the community meal.
Free Potluck Party Planner
Let me help make your next potluck easy! Get your free copy of my printable potluck party planner.
Best Slow Cooker For Potlucks
No matter how hard I tried, I always had a spill or leak when transporting a full slow cooker to a church dinner. I finally found a foolproof, no mess slow cooker that made toating it in the car easy and mess-free!
My absolute favorite slow cooker for potlucks is the Presto Nomad 8-quart Traveling Slow Cooker!
It's easy to carry with a swing up handle.
It has a locking lid that seals tight for spill-proof transport
The slow cooker has a rugged cooler-style body.
Cool-touch housing keeps the inside hot and the outside cool to touch.
Viewing window lets ou see what is inside without having to unlock the lid.
Bult in cord storage and removable utensil holder doubles as a spoon holder.
Easy to clean exterior so the slow cooker always looks new.
Removable cooking pan for easy clean-up.
My Favorite Easy Church Potluck Crockpot Recipes
I have gathered some of my favorite easy crockpot recipes that are always a big hit with friends and family. Most require minimal prep time and they are all easy to make.
Easy Recipes Under 5 Ingredients
Some of my favorite recipes to make in my slow cooker have under 5 ingredients. They are really quick and simple to make. With only a few required ingredients, they are budget-friendly and easy enough for the kids to pitch in and help make dinner.
Homestyle 4 Ingredient Slow Cooker Chicken and Stuffing
This 4 Ingredient Slow Cooker Chicken With Stuffing is the perfect make-ahead slow cooker meal for a church potluck. Plus, it's an easy crock-pot chicken recipe that is very budget-friendly. The gravy is made with a can of cream of mushroom soup or cream of chicken soup, sour cream, and a box mix of stuffing. Comfort food at its best.
Get Recipe
5 Ingredient Crock Pot Potato Soup
Here is another great idea if you want to try a new recipe with only a few ingredients. For this easy and delicious Crockpot Potato Soup recipe, look no further! This 5 Ingredient Crock Pot Potato Soup is perfect for a cold day or when you're short on time. And the best part? It's loaded with a home-cooked meal flavor!
Get Recipe
Chicken Slow cooker Recipes
These chicken slow cooker potluck recipes are easy to prepare. They can all be prepared with boneless chicken breast, chicken thighs, or turkey.
Texas Roadhouse Portobello Mushroom Chicken Recipe (Copycat)
This easy recipe for a slow cooker potluck is a Texas Roadhouse copycat. The dish has tender herb-infused chicken breasts baked in a creamy portobello mushroom sauce. A slice of pepper jack cheese and a sprinkle of fresh parmesan cheese crowns this easy dinner idea.
Get Recipe
French Onion Soup Mix Chicken In The Slow Cooker
The chicken cooks in a simmer sauce, making everyone think you have a magical slow cooker! This recipe has a rich, creamy gravy with bites of sweet chewy sun-dried tomatoes and herbs smothered over juicy cornish game hens. It's also easy to use boneless chicken breast instead. It's made with simple ingredients like chicken broth, whipping cream and topped with parmesan shredded cheese.
Get Recipe
Marry Me Slow Cooker Cornish Hens Recipe
Merry Me Slow Cooker Cornish Hens Recipes has a rich and creamy gravy with bites of sweet chewy sun-dried tomatoes, herbs all smothered over juicy cornish game hens. They are perfect for a special occasion, but best of all, they are easy to prepare and cook on their own in your crockpot
Get Recipe
Slow Cooker Chicken Pot Pie Recipe
Simplify pot pie by using your crockpot! Make this slow cooker chicken pot pie with minimal effort. Great dinner for a busy weeknight!
Recipe
Crockpot Side Dishes For Church Potluck
Crisp Slow Cooker Asparagus
Crock Pot asparagus is a good recipe for members that are trying to stick to a low-calorie diet. This recipe is one of my favorite dishes to serve in the spring around Easter. Cooking asparagus in a crock pot is an easy way to serve perfectly cooked asparagus instead of mushy, like some cooking methods produce.
Get Recipe
Best Crock Pot Baked Beans
Crock Pot Baked Beans are the way to go! Once you try these, you'll never eat them straight from the can again. Great for summer BBQs themed potlucks.
Get Recipe
Cheese Lovers Crock Pot Recipes
You will surely bring a hit recipe to your next church potluck if it has a lot of cheese. The slow cooker is perfect for this type of recipe since you have a low and slow heat, allowing the cheese not to burn but become a gooey stringing bite of goodness.
Some favorite cheese crockpot add-ins are shredded cheeses such as pepper jack or cheddar cheese, cream cheese, and parmesan.
Crock Pot Cheesy Potatoes
If you're looking for a delicious and easy side dish to make in your Crock Pot, you must make this copycat Cracker Barrel Cheesy Hash Browns Recipe. It's one of those fantastic recipes that will become a family favorite. It is also the perfect cheese lovers potluck dish that only takes a few minutes to prepare.
Get Recipe
Crock Pot Mac n Cheese with Uncooked Pasta - Butter & Baggage
With just 6 ingredients, Crock Pot Mac and Cheese will be your new favorite side to take to a potluck. You don't even have to cook the pasta, just dump and go!
Get Recipe
Ground Beef Slow Cooker Recipes
Rich Hawaiian Zippy's Chili Recipe; Slow Cooker
Chili is an iconic dish of chili that has been well-loved by the people of Hawaii for decades. It's a hearty mix of beef, sausage, beans, and unique spices that provide a range of flavors and textures in every spoonful. Serve over a scoop of white rice, on hamburgers, french fries, spaghetti noodles, or fill a burrito. My favorite thing is a topping on hot dogs.
Get Recipe
Crockpot Pimento Cheese Dip
Pimento Cheese Dip is a quick and easy recipe that can be used for filling burritos, tacos, or over nachos. It will become a favorite toppings item on a hot dog or sausage dog.
Recipe
Slow Cooker Goulash Recipe
This slow cooker recipe is a delicious, filling, and hearty meal that is super easy to prepare in your crockpot. It requires just minutes of prep time and a few simple ingredients. Slow cooker goulash is perfect for your next potluck.
Recipe
Hearty Soup Favorite Recipes
Creamy Crock Pot Chicken Corn Soup
Crockpot chicken corn soup makes is a creamy hearty soup that will be a hit at your next church potluck dinner. It cooks up mostly unattended until you're ready to serve it for dinner. It's a perfect recipe for a cool fall or winter meal.
Get Recipe
Crock Pot Hearty Bean Soup
Crock Pot navy bean soup is a delicious and hearty soup that is a bowl of comfort. This yummy soup has a base of aromatic vegetables like onions, carrots, and celery with a creamy base.
Get Recipe
Slow Cooker Pasta Recipes
Easy Crockpot Ravioli Recipe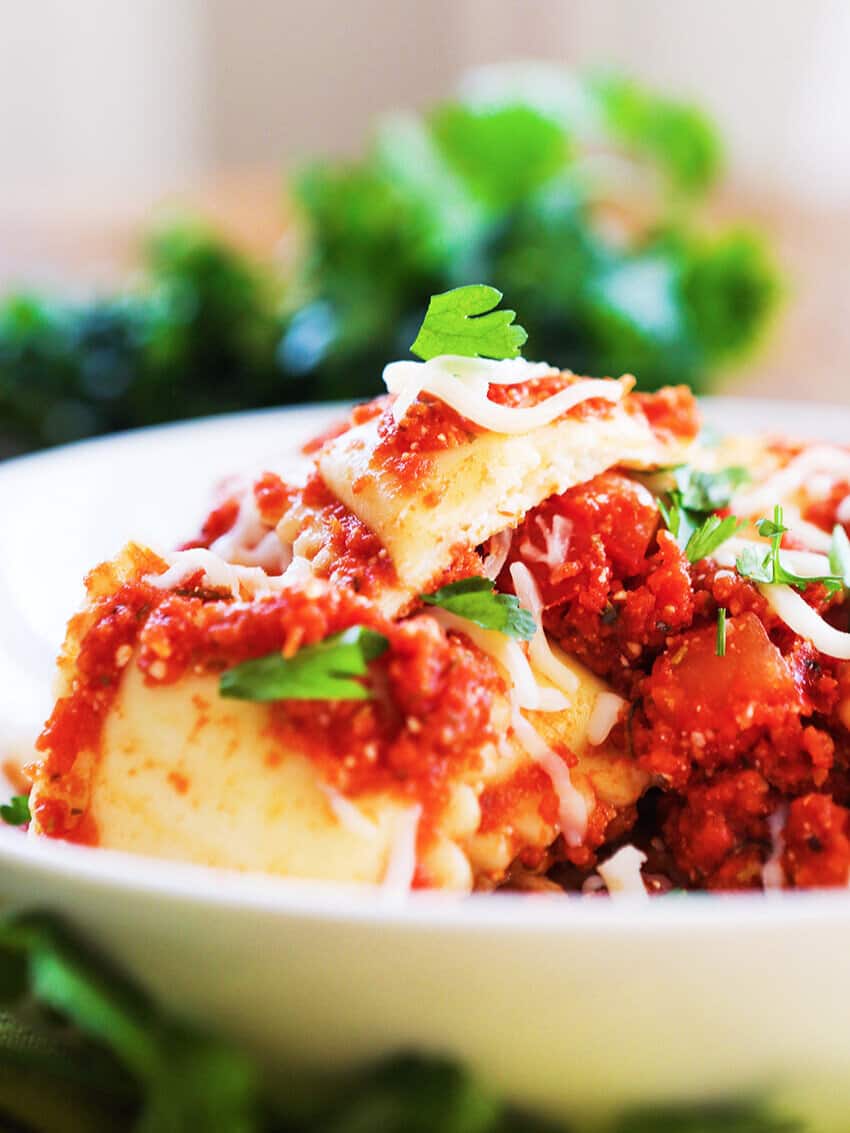 Crockpot Ravioli requires only 6 ingredients. It only needs to be cooked for 3 hours, which is perfect timing for a noon meal. Enjoy a yummy plate of cheesy pasta covered in tasty Italian sauce!
Get Recipe
Easy Crockpot Spaghetti and Meatballs Recipe
This easy crockpot spaghetti and meatballs recipe is made right in your slow cooker! It's a tasty meal that even kids will want seconds of. Let the pasta sauce simmer while you accomplish other things around the house. This family-favorite recipe makes a perfect fellowship dinner main dish with tons of flavor!
Recipe
Easy Creamy Tortellini Soup In A Slow Cooker
Make this Creamy Tortellini Soup in your slow cooker for a super easy, comforting meal.  If you want easy, this is a good recipe. Tortellini soup takes at most 20 minutes of prep time, and your slow cooker does the rest of the work for you. It's a complete meal with veggies, chicken meat, sauce, and bread. 
Get Recipe
Tips For Using Your Crock Pot
Slow cooker recipes are usually easy and always turn out perfect. However, some mishaps are easy to fix with a few simple tips.